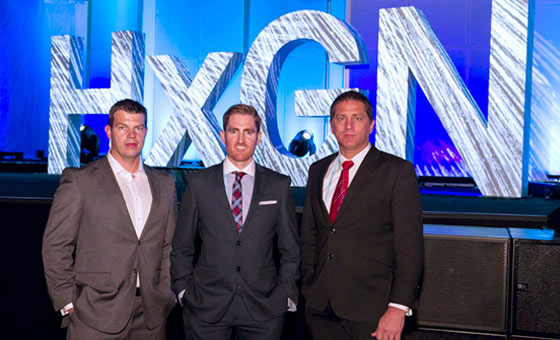 From left to right: Jason Ward, Adam Head and Peter Nicholson @ HxGN LIVE Conference Las Vegas
HxGN Live 2013
Adam Head, Information Quality's General Manager was in Las Vegas recently to present IQ's groundbreaking work on Intergraph's new legacy data capture & optimisation solution, Smartplant Fusion.
Originally implemented within IQ as the Brownfields Data Organiser, Smartplant Fusion development was enhanced through close collaboration between IQ, Woodside and Intergraph, to take the solution to the cornerstone product it is rapidly becoming.
This product development work was performed simultaneously with a large acquisition project, a major brownfields scope, undertaken by Information Quality. Significant interest in Smartplant Fusion was shown at HxGN LIVE, Intergraph's primary technology and solution showcase and international conference.
Adam explained to Owner Operators and EPC's alike, how IQ's talented resource pool was utilised to perform the gargantuan task of organising, validating and publishing the legacy data and documentation for the Vincent FPSO. The international audience showed particular interest in the benefits which IQ were able to realise from the implementation of Smartplant Fusion to provide a first class digital asset in support of the physical asset.
IQ is exceptionally proud to have been able to play such a key role in the development of Smartplant Fusion, and the successful execution of a large legacy data conversion. For more information on how Information Quality can assist you to realise the full potential of the Smartplant suite of products, including Smartplant Fusion, please go to our Contact Us page. More information on Smartplant Fusion is available here.